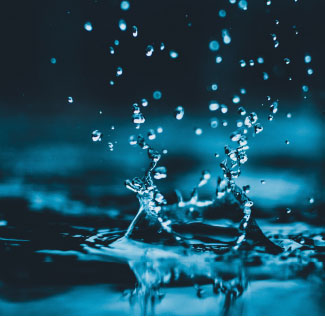 The "Day Zero" term originally came to our attention in 2018 as shorthand for the day on which the city of Capetown, South Africa, would have to turn off its municipal water system because of a drought. In essence, Day Zero is the first day when you can't drink water from the tap. Our DayZero UV-H2O-Box products are made to help families use water from untreated sources for their daily drinking and cooking needs. The need to treat your own water may arise from a natural disaster like an earthquake, or from water quality problems in city water systems.
Surprisingly, UV water treatment at the household scale also has the potential to reduce global greenhouse gas emissions. Eight per cent of the earth's population – 600 million people – boil their water everyday to make it safe to drink, mostly over wood and charcoal fires. In energy terms, UV water treatment is 1000 times more efficient than burning wood to boil water. Reducing the labor to gather fuel and consequent deforestation, reducing exposure to smoke, and eliminating the wait for water to cool after boiling are additional benefits from UV treatment as a replacement for boiling.
Our objective is to fund the development and deployment of inexpensive, convenient household UV water treatment appliances as a substitute for boiling water over wood and charcoal fires. DayZero UV-H2O-Boxes help our customers in North America prepare for emergencies and in addition may one day help to reduce global greenhouse gas emissions and improve public health in other parts of the world. We recognize that we need help to bring about wide-scale adoption of these UV water treatment devices. If you would like to help, please contact us.
"We had the privilege of following the extensive prototyping and testing phase of the Day Zero UV Waterbox. It was clear that the WaterBox's design and development were extraordinarily rigorous. We purchased a WaterBox as a key element of our family's emergency preparedness kit. One can see and feel that the WaterBox is built of high quality components. Everything works as expected and the operation is smooth." 
– Capt. Peter Wilcox
"After surviving the Bay Area's Loma Prieta earthquake, along with serving many years volunteering with the Berkeley Fire department and local American Red Cross in a volunteer Radio Emergency unit, Michael Kronenthal says: "The Water Box fills a real gap in our emergency preparedness kit. The fact that we can sterilize a gallon of water in just a minute's time makes us feel confident that we could have adequate clean water for ourselves – not to mention others in the neighborhood – in any emergency. Also handy for those temporary boil water notices!"
– Lynn Merrick
"Simple, effective, and easy to use, the DayZero WaterBox is the perfect tool for insuring safe drinking water. Don't mistakenly dismiss the low probability of a disruption in the supply of safe water. Instead, recognize the consequence of such a disruption and be prepared. The WaterBox is inexpensive, portable, uses no chemicals, and requires no maintenance. Potable water. It's the key to life."
– Dave Straube
"I'm the proud owner of the Day Zero Water Box, a handy tool for everyday and emergency use. I cranked water through my box for over a month and it worked great – clean water for all!"
– Steve Higgs
Paul is a water systems engineer, now newly retired, who worked for many years for an international engineering company. He took a year-long sabbatical from his firm in 2009-2010 to provide volunteer assistance on water projects in East Africa. He began working on a UV water box prior to this trip, and used an early prototype version as a means to assure safe water for his family while they lived in Kampala, Uganda. Paul holds U.S. Patent No. 7,754,090 "Portable ultraviolet water treatment apparatus". In 2015, he wrote an article for the Journal of the American Water Works Association, published in their October 2015 edition, titled "The World's Need for Household Water Treatment".
Dave is a climate change researcher and computer modeler. He started Oregon Freshwater in 2015 to provide watershed modeling services to climate change research projects.
Dave and Paul met in December 2017 at a workshop about how to obtain safe water after an earthquake. In 2019 Paul licensed his patent to Freshwater in exchange for an equity stake. The license requires the formation of a new benefit corporation focused on household water treatment products within two years, once a suitable investor or partner organization has been found.